Extra Curricular Activities
Every year, National and International commemorative days are celebrated with active participation from the students and staff members which enables the stakeholders to involve in other extra-curricular activities beyond academics. All these activities help to inculcate professionalism, inclusiveness and human values among dental professionals, thereby providing quality oral healthcare services to the patients.
WORLD BLOOD DONOR DAY:
Every year, world blood donor day is celebrated on 14th June to create wider awareness about the need for safe blood and blood products and to thank the donors for volunteering.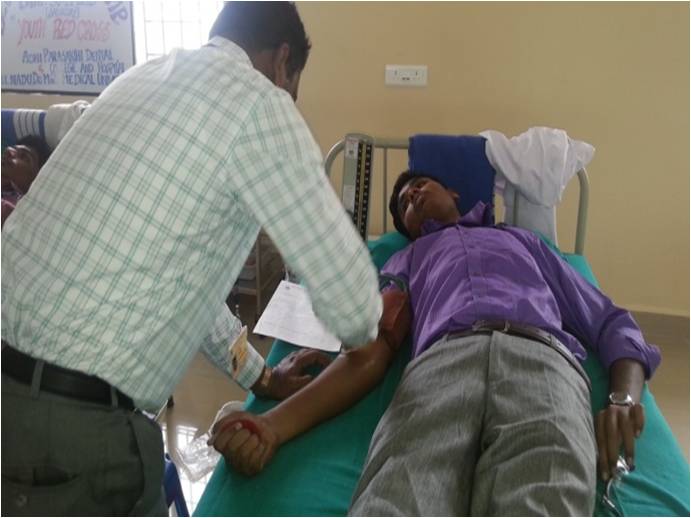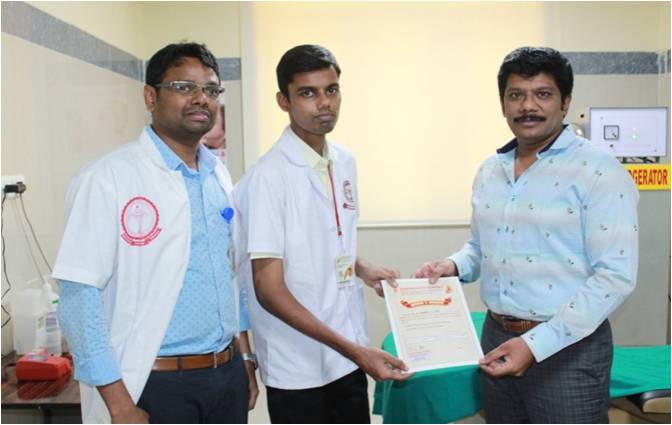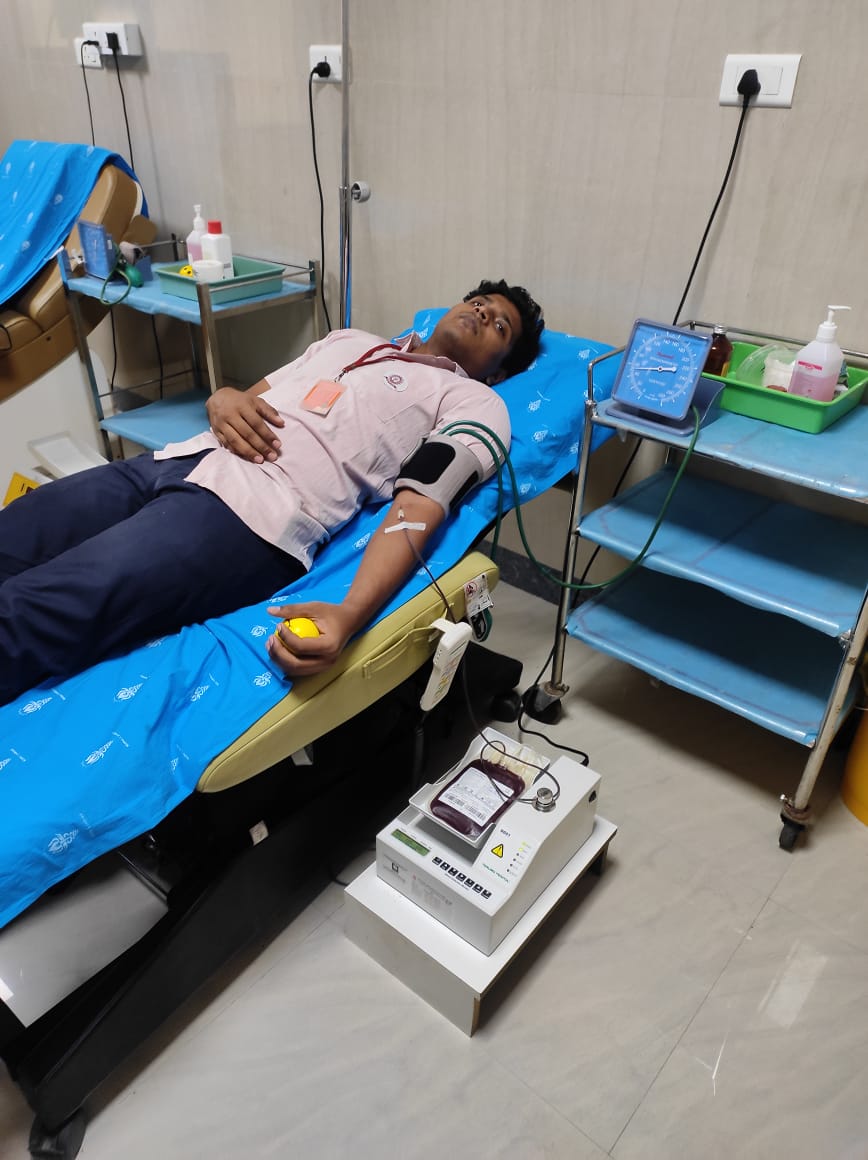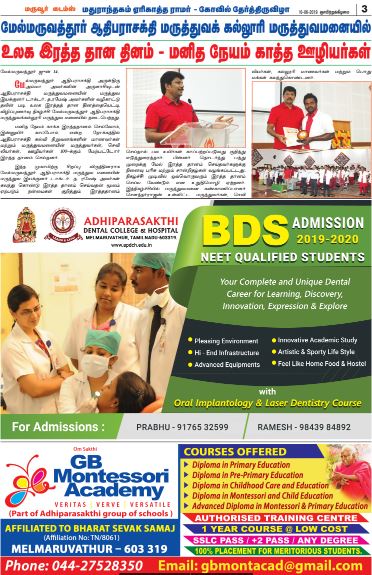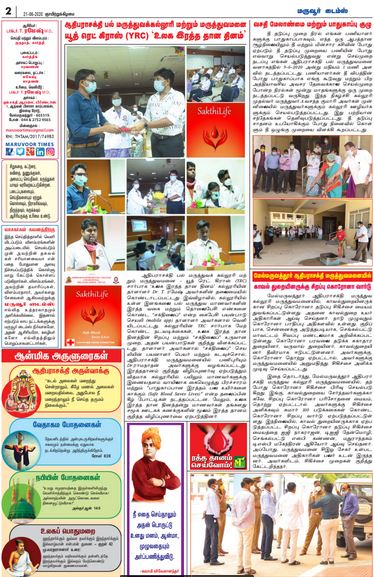 WORLD ORAL HEALTH DAY:
World oral health day is celebrated every year on 20th March to empower people with the knowledge, tools, confidence to secure good oral health. It is an initiative of FDI of World Dental Federation. Pamphlets were distributed to create awareness about oral health and encourage individuals to take personal action. The students were involved in various activities to create oral health awareness among public.
DOCTOR'S DAY:
Doctor's day is celebrated on July 1st every year to recognize the contribution of physicians towards individuals' lives and communities.
DENTIST'S DAY:
National dentist's day is observed on March 6th to thank and felicitate dentists and to create awareness among the public about the importance of oral health and the role of a dentist to keep their oral health.
ORAL HYGIENE DAY:
Oral hygiene day is celebrated on 1st August with the objective to spread the message of oral health and its importance It is celebrated by conducting camps, skits, creating oral health awareness among the public.
NATIONAL TOOTH BRUSHING DAY:
November 7th is observed as National Tooth Brushing Day in India to reinforce the importance of children's oral health and promote good tooth brushing habits.
WORLD NO-TOBACCO DAY:
World No-Tobacco Day is observed on May 31st to educate the public on the dangers of using tobacco and motivate them fight against the tobacco menace. Pamphlets illustrating the ill effects of tobacco and consequences of oral cancer is distributed to the patients.
WORLD HEALTH DAY:
World health day is celebrated on April 7th to focus on worldwide attention on global health and create awareness.
WORLD CANCER DAY:
The World Cancer Day is celebrated on 4th February to raise attention towards oral cancer and inspire action among public for cancer treatment. Screening for oral cancer is conducted with the prime purpose of minimising the number of oral cancer patients.
INTERNATIONAL DAY OF YOGA:
International Day of Yoga is celebrated on June 31st to drive away all negativity from human system and to promote achievement of health and happy life. Yoga instructors are invited to train the staff and students about simple yoga and meditation methods. An interactive session on the importance of yoga and meditation to improve the mental health of an individual is organised.
WOMEN'S DAY:
International women's day is celebrated in March 8th to commemorate the cultural, political, socioeconomic achievements of women.
The institution serves all its stakeholders without any discrimination, irrespective of gender, class, religion and ethnic background. Though the students and staff members hail from different socio-economic, cultural, regional, linguistic background, all of them were given equal opportunities for their personal and professional development. Utmost care is provided to the dental patients with no partiality.
The college adopts uniform dress code for all the students so as to instil a sense of equity among the students. The students are provided with a holistic and enriched learning experience. Celebrations such as Pongal, Teachers' Day, International Women's Day, Fresher's Day are organised every year which enable the students to work as a team forgetting their differences. The college environment is free from ragging and sexual harassment. The students and staff members are encouraged to take part actively in organising and celebrating national festivals, important national and international days; various competitions are conducted to show their skills and also to inculcate the moral values and unity among the students. The students are permitted to celebrate festivals like Samathuva Pongal which provides them a platform to mingle freely forgetting their caste and creed.
Language and soft skill development programs are organized for students from diverse verbal backgrounds to enhance their professional skills. Personality development and gender sensitization programs, professional ethics programmes are organized regularly. ICT enabled tools are provided and periodic training is conducted to all students. Separate hostels are provided for boys and girls. All the students are treated equally, they share rooms and the institute is providing all facilities to maintain harmony between students.